Sustainability is an ever-rising issue worldwide. It affects every company in every industry and telecommunication industry is no exception. You might ask, what does antenna testing has to do with sustainability? By testing your antenna's performance, it is possible to determine if the antenna is as functional as it was designed to be and therefore energy efficient. Antenna testing eases the selection of an optimal antenna for a specific environment; when optimal antenna is selected, network operates more efficiently, and base stations and user equipment use less power. Sustainability of an antenna is dependent on a following things:
Antenna design – wisely designed antenna maximises its efficiency. For example, the placement of different component affects the energy consumption.
Antenna material – material choices such as plastic, metal etc. affect the sustainability of an antenna. Material choices also affect the energy consumption. In addition, when antenna is built from quality materials, its lifetime longer.
Antenna efficiency – Antenna efficiency means the amount how much energy antenna radiates compared to the amount of energy supplied to it. For example, if antenna at its best could radiate 100W, in real life it might radiate only 60W. In this case antenna is not efficient and uses more energy.
Antenna pattern quality and MIMO quality. Antenna pattern affects the sustainability because different antenna patterns are suitable for different environments. If antenna pattern is not good for a certain environment, it will consume more energy. MIMO quality is important, since it affects how much bits can be transferred per watt.
Cable loss – cable loss means the loss of power due to cable's length.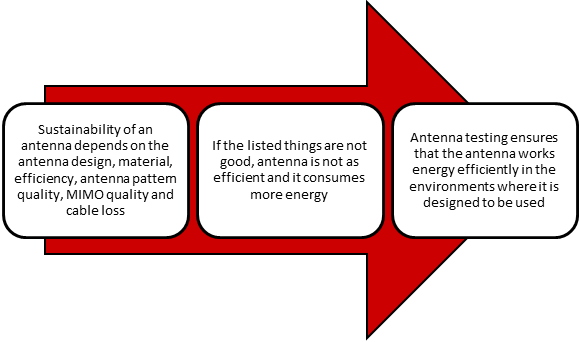 Sustainability and Elisa
Sustainability is in Elisa Oyj's core values. One of their many achievements is that they were the first Nordic operator to become carbon neutral. Verkotan was happy to provide Elisa Oyj with antenna testing to verify the high-quality performance of their base station network and the energy-efficiency of the antennas they use. This provides a longer service life for the antenna and better performance for the end user, which is a top priority for Elisa.
The efficiency and antenna patterns of Elisa Oyj's 5G FR1 base station antennas were evaluated and measured in our near field to far field (NF-FF) laboratory with our unique NF-FF transformation. The near-field characteristics are converted to far-field characteristics using software and necessary transformation algorithms. The NF-FF approach considerably reduces the required distance to get the required far-field characteristics of an antenna and this testing enables Elisa to optimize the antenna's service radius to its full potential.
We did multiple antenna measurements for Elisa, for them to be able to select the best antennas for their network and provide the best possible internet and cellular service for their clients. When antenna measurements for multiple antennas are performed in the same laboratory, the test results are more accurate. This is because the testing conditions will remain the same and the only dependant variable will be the antenna performance.
About Verkotan
Verkotan sees the world through antennas by providing wireless tests solutions and services. Our roots are in cellular phones R&D, covering all technologies from the 1st generation to the upcoming 6th generation. We can provide OTA, Beamforming Antenna, RF Exposure and SAR -testing or comprehensively Tailored Test Solutions. We have developed our own active and passive antenna measurement systems based on NF-FF transformation, which is an essential method for 5G beamforming antenna measurements. We are actively participating in EU R&D projects with research institutes and other leading companies, and we are continuously seeking for new state-of-the-art solutions. We are a fast, flexible and reliable partner with our customers' R&D, and we always find the best testing solutions to match our customers' needs.
If you are interested, do not hesitate to contact us, we are always ready to help!
Kari Komonen
Co-Founder & CEO
Ilpo Vilén
Sales & Marketing Manager
Follow our social media channels to keep up with the latest news in the world of wireless technology!