Are you a manufacturer of radio equipment and planning on selling your products in France or in the United States? There are a few things you need to consider in the product development phase before you get your product to the market. After reading this article you will know when limb SAR is required and how to make your wireless product ready for the markets.
From 1st July 2020, France requires that all radio equipment to be sold and used in France, must have limb SAR value tested, in addition to the head and body SAR. Limb, head and body SAR values are also required for many radio equipment by the FCC, The Federal Communications Commission.  FCC is an independent agency of the United States government. FCC regulates communications by radio, television, wire, satellite, and cable across the United States. (https://www.fcc.gov/about-fcc/what-we-do) 
What does SAR mean?
SAR stands for Specific Absorption Rate. SAR is a measure of the rate at which energy is absorbed by the user's head, body, or limbs when they are exposed to a radio frequency electromagnetic field. SAR testing must be done on radio devices that are used closer than 20 cm to the human head or body. In Europe, all devices with the power of 20 mW or higher, need their SAR value to be evaluated. In Canada and the USA, whether the device's SAR value needs to be evaluated depends on the distance between the user and the device. Also, the power, and the frequency, in which the product radiates determine whether SAR testing is needed.
When is limb SAR or extremity SAR required?
To put it simply, there are two cases when a product needs limb SAR testing to be done.
If a radio equipment is designed to be sold in France 
In some cases when a wireless product is designed to be sold in the USA.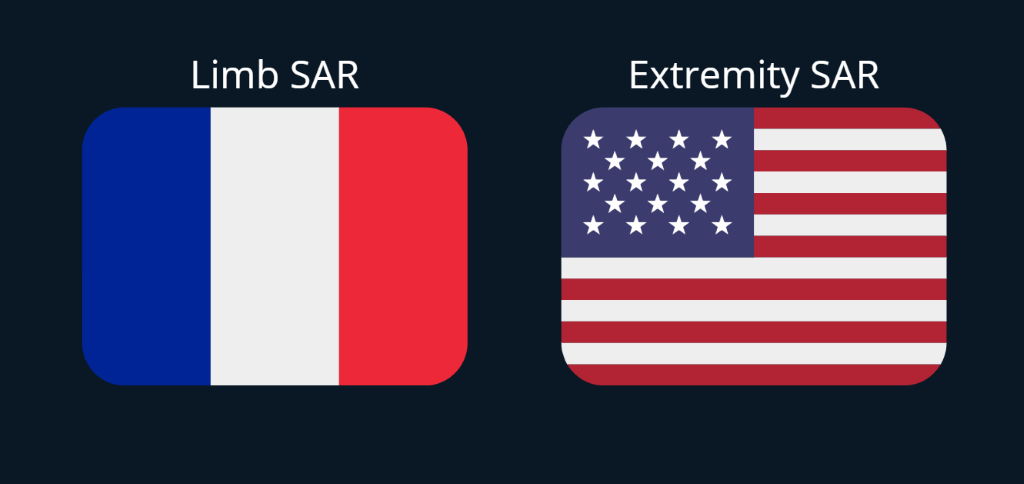 France – Limb SAR
From the 1st of July, the SAR regulation in France changed. The National Frequency Agency (ANFR) extended the obligation to inform the consumer regarding the head, body, and limb SAR . Previously obligation to inform head and body SAR has only concerned mobile telephone equipment.
Nowadays France requires also limb SAR to be tested from all radio equipment emitting more than 20 milliwatts (mW) and intended to be used near the body before the product can be sold in the French market. This is due to increased consumer protection regarding wireless devices. Limb SAR refers to arms, hands and wrists, and feet, ankles, and toes. 
Due to this new regulation, all radio equipment, meeting the above mentioned requirements, to be sold and used in France must comply with specific absorption rate limits for limbs, in addition to the head and body SAR that has been required before. 
You can read more about the new France SAR regulation from here.
The United States – Extremity SAR
Limb SAR is also required by FCC in some cases. In the United States, the limb SAR value is called extremity SAR evaluation. Extremity SAR is required for devices that are designed or intended to be used in extremities or mainly operated in extremity only exposure conditions. Extremity conditions refer to hands, wrists, feet, and ankles.
Extremity SAR evaluation may, for example, be required for smartphones with a display diagonal dimension > 15.0 cm or an overall diagonal dimension > 16.0 cm, that supports hotspot mode, i.e. web access via WIFI. 10-g extremity SAR is required for hotspot mode when the surfaces and edges report SAR value higher than 1.2 W/kg.
Specific Absorption Rate (SAR) Limits
International Commission on Non-ionizing Radiation Protection, ICNIRP aims to protect people and the environment against adverse effects of non-ionizing radiation. ICNIRP provides exposure guidance and sets boundaries for permissible exposure emitted by wireless radio devices.
The limit for 10 grams averaged SAR in limbs is 4W/kg. The value is higher compared to SAR limits for the head or body. For the head and body, the limit is 2W/kg. According to ICNIRP Guidelines reason for higher limb limits is that body parts respond differently to magnetic field pulses and temperature.
SAR for head, trunk, and limbs is measured as an average rate over a mass of 10 grams and over any six minutes time period.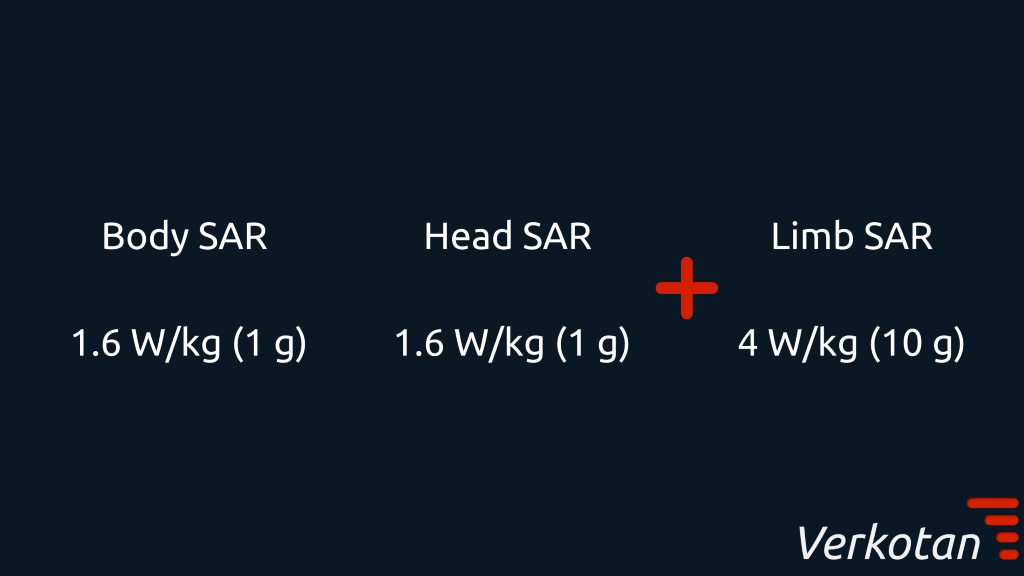 Limb SAR Testing Process
Limb SAR is measured by placing the wireless device against a flat phantom. Measurement system (for example DASY52 system) is used to measure the SAR in the phantom. The wireless device needs to be placed against the flat phantom in orientations according to the intended use of the device.
Measurement distance
Limb SAR is usually measured with 0 mm distance between the phantom and the device under test. This differs significantly from the 5 mm distance used in body SAR measurements. The distance used in body measurements is higher because in a typical use case, the device is held in a pocket and there is fabric in between the body and the device. In limb or extremity SAR evaluations, the distance is zero because the device is usually held in direct contact with the skin. For the same reason measurement distance in the head SAR is also 0 mm.  
Measurement positions
Limb and extremity SAR are measured in six different positions. This requires more measurements to be done compared to body SAR in which the SAR value is measured in two different positions.
The requirements for the measurement setup and scans follow the guidelines of 62209-2.
---
We at Verkotan follow the updated regulations and improve our testing services according to them. The newest regulation in France markets concerns limb SAR. We at Verkotan are happy to help you with updated SAR regulations and make sure you get your product to market as soon as possible.
Verkotan provides limb SAR values fast and flexibly. Request a quote easily from here.  
Consumer protection has driven an increase in SAR testing and regulations. We at Verkotan are aware of these updated regulations. Subscribe to our newsletter to follow up on the updated information about the regulations. Also, you can read more about the mobile SAR value testing process from our article. 
Follow our social media channels to keep up with the latest news in the world of wireless technology.
Contact our Sales