Orbis Systems is a global ICT company that provides test solution engineering, prototyping, and manufacturing services for the telecom and electronics industry in Europe. Especially in Finland, their key competences are designing various RF testing techniques and solutions as well as automated test equipment. The antenna in the picture above is Orbis Systems' 5G OTA testing development reference antenna. We performed Beamforming Measurements to this 5G OTA antenna in our anechoic OTA chamber.
Tuomo Tolonen, COO, Orbis Systems Oy

Verkotan performed 5G Beamforming Antenna Measurements to Orbis Systems' 5G OTA testing development reference antenna. We were highly impressed of the efficient and fast Verkotan team and the accurate test results. This is very important for Orbis Systems to keep our position in market as leading test system provider also with 5G technologies.
This pleasant experience proves us that Verkotan is really at the forefront of researching and performing 5G testing. Our cooperation has worked very smoothly, and we are excited to continue Orbis Systems 5G OTA antenna testing with Verkotan in the future.
After Beamforming Measurements have been performed, Verkotan's specialists analyze and calculate the test results. After this step, we gather an inclusive report for our customers with multiple graphics of different beam patterns. In the reference picture from Orbis Systems below, you can see the typical shape of the beamforming antenna pattern from the simulation.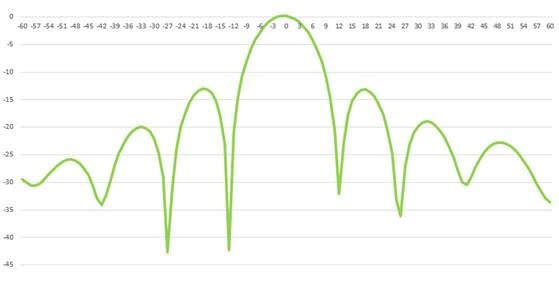 ICT companies such as Orbis Systems are one of our main customer segments.
Verkotan is always happy to provide more detailed information and make a proposal how we can verify the performance of your wireless device in the global environment.
If you have any questions or need assistance, contact us. We are happy to help you!
---
Follow our social media channels to keep up with the latest news in the world of wireless technology.
Contact our Sales
Ilpo Vilén
Sales & Marketing Manager